Biography
Carla Malrowe is an alternative musician from South Africa who has made her home in The Netherlands. She is a songwriter, producer, pianist and singer with a vast love for drum machine plugins, screeching electric violins and lyrics that are unapologetically macabre and melancholic. It's difficult to subscribe to her music to any specific genre due to her approach.
Through exposing the complex love-hate relationship between the synthetic and the organic, digital and analogue, and modern with classical she creates sharp juxtapositions in her songs that emphasize sonic binaries and their baffling co-existence. Electro-pop, indie alternative, freak-folk and a hint of dark wave are genres that all show face in her music.
Her debut solo EP, The Petals and Sand is set for release this June '23.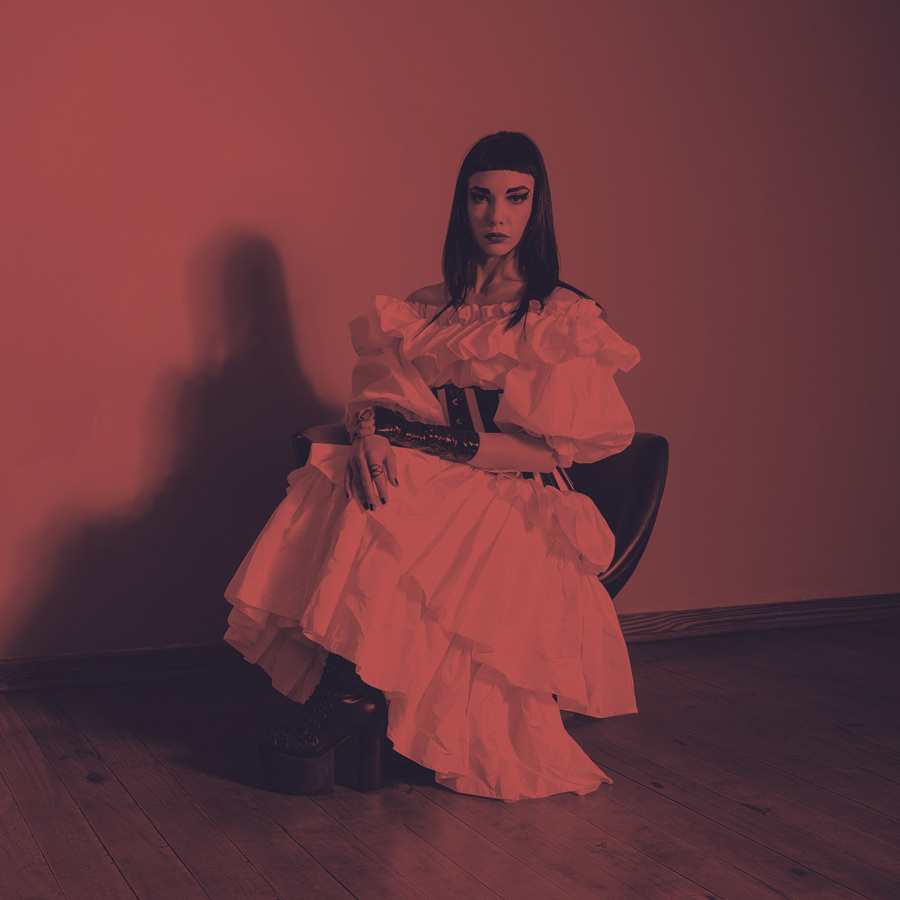 Background
Malrowe had been writing music and singing in bands from as early as 16. She spent her early 20s pursuing fiction writing and poetry, but at 27 decided to start a serious career in music. Malrowe started Me'ek along with guitarist and producer, John al-Khayal, which was an electronic industrial band. She co-wrote the music, sang and played keys for the project. They released their EP, Water as we kiss in 2018, which was produced mixed and mastered by Barry Berk, a figure that would become instrumental in Malrowe's future solo work. Their unplugged version of 'Right Here', performed at The Bass Station with Berk, became a favourite among fans, and would also become their swan song.
Marlowe left Me'ek to study production and explore other genres. In 2021 she approached musician Ampersand and together they formed the industrial noise project Psycoco – Their single 'Stay Awake', Marlowe says, is, "still the most chaotic supercharged horror that's ever come out of my mouth… I adore it."
Influences
She subscribes to the cyclical effect of art inspiring art. Artists that are most inspirational to Malrowe's compositions are Bjork, Cocteau Twins, Grimes and Son Lux, where's on a poetic/lyrical level it's been, and always will be, her first love, Leonard Cohen.
She also draws inspiration from art forms such as fiction writing and film. Examples would be ​​Låt den rätte komma in by John Ajvide Lindqvist and Frankenstein by Mary Shelly. Creativity, she experiences, as a lifeline. "I create, whether it is a piece of music, a poem, a smoothie or an outfit. I create because I can't not. I don't know how."
Themes
She had been writing songs that served as a cathartic purge as a teenager, but it was only later that she would discover a subject matter that would supply her with endless inspiration, and which she would explore for the next decade.
We shall weep for another day
For what binds us to our grief
Binds the sculptor to his clay
We who fell in love with the ocean | Rome
These few lyrics, and what they meant to Malrowe upon discovery, changed the way she would perceive and understand art, and how for her, it could not be separated from her fascination with loss. She started seeing the concept as sacred and on a different plane to any kind of pain. The theme presented itself in earlier years in songs like 'The Room' (Me'ek) and 'Stay Awake' (Psycoco). All the while 'The petals and sand were slowly developing in the back of her mind. Her attraction to loss would later become a romance with grief – as if the song had predicted it.